F-Secure Free online tools
Is your computer protected?
F-Secure Health Check is a free online tool that lets you know if your computer is protected and helps you fix possible security issues.
In just a few minutes, and without installing anything on your computer, you can find out:
Whether your firewall, anti-virus, and anti-spyware software is turned on and up to date, your photographs, text documents, and other irreplaceable content are automatically backed up or if there are security updates available for the most widely used programs on your computer (such as the operating system, web browsers and media players)
In addition, Health Check's summary page provides a report of your computer's overall health, as well as recommendations for improving its protection.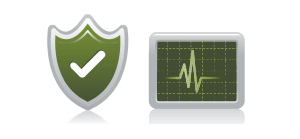 Online Scanner can help get rid of viruses and spyware that may be causing problems on your PC. Online Scanner only requires the installation of an add-on for your browser and works even if you have other security software installed on your PC.
Please note that Online Scanner is not compatible with Apple Mac computers.
Before you can start scanning your computer, you need to install the F-Secure Online Scanner add-on for your browser.